Paris hosts 26th edition of World Poultry Congress
The "Poultry Congress of the World" or the World Poultry Congress will provide an opportunity for attendees to exchange views on poultry science, showcase the distinctive features of the poultry industry, showcase their potential and strengthen their appeal to young students . It features an engaging social program based on French historical and gastronomic culture to foster friendly relations between attendees, which complements one of the main features of the WPSA.
Organized by the French branch of the WPSA, it expects more than 1,000 congressmen from around the world in its five days.
This is the 26th edition of the "World's Poultry Congress", having held three previous editions in China (2016), Brazil (2012) and Australia (2008). This XXVI edition was to be held in 2020 but had to be postponed due to the pandemic.
The ambitious program from Sunday 7 August to Thursday 11 August features dozens of conferences divided into themed sessions and can be viewed at: https://wpcparis2022.com/program-2022/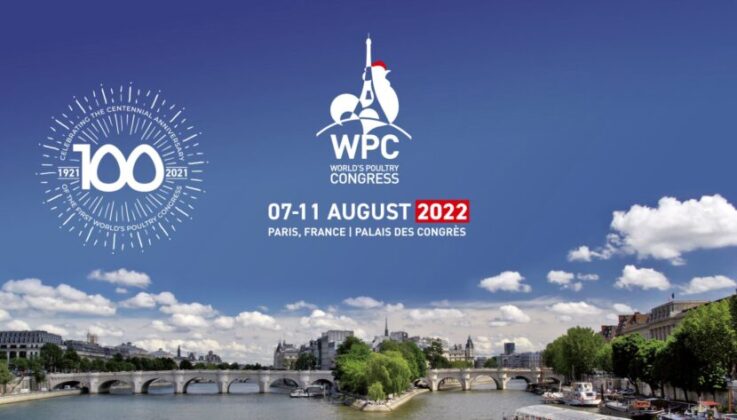 The Congress has 11 plenary sessions and 28 special sessions.
The 11 plenary sessions will take place on Monday 8 and Thursday at 11 AM and are as follows:
| | | |
| --- | --- | --- |
| session | conference title | Ponente |
| Breeding and Nutrition Strategies for Sustainable Poultry Production Plans | Opportunities offered by genomic selection to reproduce for different production systems | Jack Deckers (United States of America) |
| Breeding and Nutrition Strategies for Sustainable Poultry Production Plans | How far can we go to improve the environmental sustainability of poultry systems? | Elias Kiriyazakis (United Kingdom) |
| Economy and sustainability of the poultry production chain | Mitigation of environmental impacts of poultry production | Ermias Kebrib (United States of America) |
| Economy and sustainability of the poultry production chain | Global challenges to the economy of the poultry sector | Peter Van Horn (NL) |
| New Frontiers in Poultry Science | Epigenetics, Domestication, Rewilding and Adaptation | Dominic Wright (SE) |
| New Frontiers in Poultry Science | PGC and Genome Editing: From Laboratory to Practice | Jae Yong HAN (KR) |
| New Frontiers in Poultry Science | Ethical issues of biotechnology in animal production | Thomas Hames (FR) |
| One Health – One Wellness | Avian influenza in a health framework | David Swain (USA) |
| One Health – One Wellness | Poultry Welfare Assessment and Reform Beyond Compliance, a multi-stakeholder initiative | Karen Schwain-Lardner (CA) and Anne-Marie Nietsen (NL) |
| Bird and its microbiota | Highlights of the Poultry Microbiome Study: What is lacking in turning research into innovation? | Alessandra de Cesare (IT) |
| Bird and its microbiota | The intestinal microbiota, a central actor in the development of the immune response | Bernd Kaspers (DE) |
Read Also:
Partygate: Pressure on PM mounts over No 10 lockdown parties with Sue Gray report expected today
Typical sessions are 28 blocks grouped by topics that constitute the WPSA's general working groups. They will be held on 9th and 10th August and are as follows:
| | | |
| --- | --- | --- |
| session | conference title | Ponente |
| egg quality production | Recent progress on the involvement of extracellular vesicles during avian egg shell formation | Joel Gautron (FR) |
| education | Poultry Science Education: Issues and Perspectives | SERVETT YALCIN (TR) |
| Genetics: New Traits | The genetics of the new measurement: examples of the implementation of precision livestock equipment in poultry farming | Tun van de Braak (NL) |
| ingestion and digestion | Fiber: Challenges and opportunities for the poultry industry | Emmy Moss (AU) |
| quality meat manufacture | Multidisciplinary approach to reduce the effects of broiler meat quality defects | Massimiliano Petrassi (IT) |
| Meat quality – slaughter and processing | Trends and prospects for processed poultry products | Shai BARBUT (CA) |
| metabolism | Multi-generational and transgenerational effects of feeding strategies in poultry | Buy Johann (BE) |
| mineral nutrition | Digestive calcium requirements and toward a digestible calcium system | Rosalina Angel (USA) |
| molecular genetic | Progress of the B10K project, towards sequencing the genomes of all extant bird species | Guozi Zhang (DK) |
| feedstuff_01 | Use of algae in poultry nutrition | Edouard Coudert (FR) |
| physiology of nutrition | Effect of digestive dynamics on broiler performance | Alphonse Jansmann (NL) |
| physiology_01 | Nervous and endocrine systems that underlie feeding behavior and metabolism | Ian Dunn (UK) |
| physiology_02 | Early life environment and long term programming | Tom Porter (USA) |
| protein nutrition | Effect of insect-based diets on digestibility, yield and product quality | Marta Gariglio (IT) |
| egg product quality | Promotion of local chicken breeds: quality of eggs. | CHRISTINA ALAMPRESE (IT) |
| nights | Recent advances in ostrich farming | Schalk Clotte (ZA) |
| reproductive physiology | Mechanisms of regulation of the sperm acrosome response in chickens: the role of membrane rafts. | Atushi Asano (JN) |
| reproductive biotechnology | , | Mike MCGRW (SC) |
| small scale family poultry farming | Making the family poultry value chain more mature and sustainable on a small scale | Follow Guy (DJ) |
| turkey | Turkey production and health: current challenges | Mohammad Hafeez (DE) |
| Aquatic Birds | Recent Advances in Duck Nutrition | Lei Adiola (USA) |
| welfare in laying hens | Recent advances in feather pecking behavior and approaches to avoid beak bites | Bass Rodenberg (NL) |